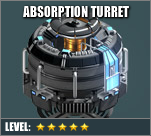 Upgrade Progression
LEVEL
UPGRADE COST
UPGRADE
TIME
DEFENSE
LAB
EQUIPPING COST
SETTING
TIME
POWER
USED
% of Damage
Absorbed
Metal
Oil
Metal / Oil
Thorium
1
50,000,000
50,000,000
1d
21
2,500,000
500,000
5s
2,500
50%
2
100,000,000
100,000,000
2d
21
5,000,000
625,000
5s
2,750
60%
3
150,000,000
150,000,000
3d
7,500,000
750,000
5s
3,000
70%
4
200,000,000
200,000,000
5d
24
10,000,000
875,000
5s
3,250
80%
5
250,000,000
250,000,000
7d
12.500.000
1.000.000
5s
3,500
90%
TOTAL
750,000,000
750,000,000
18d
Appearance Progression
APPEARANCE PROGRESSION
LEVEL 1
LEVEL 2
LEVEL 3
LEVEL 4
LEVEL 5
General Information
The Absorption Turret redirects and absorbs Damage taken by a Turret to which it is linked.
Setting the Absorption Turret
Update History
Listed in Reverse Chronological Order -- Click [ Expand ] to View Earliest Updates
Additional Info
Trivia
Firsts & Records
Quotes
"

Insert text here, without quotes.

"

 

— Attribution 
Related Pages
External Links
Gallery
Images may have been resized to fit in the page. Click on an image to view actual size.
Community content is available under
CC-BY-SA
unless otherwise noted.