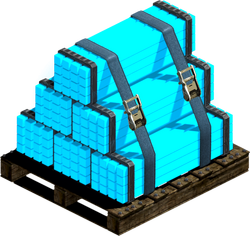 General Information
Advanced Materials are a unique resource used exclusively in the upgrading of Advanced Structures.
List of Advance Structures
Template:Advance Structure List Table
Update History
Listed in Reverse Chronological Order -- Click [ Expand ] to View Earliest Updates
Additional Facts
Advanced Materials are obtained exclusivly from Advanced Material Deposits found on the World Map.

Advanced Materials are

NOT

are not subject to being Looted in an attack on the Player Base.

The maximum Advanced Materials Storage Capacity of a Player Base is

50,000

.
Trivia
Prior to their offical introduction Advanced Materials were called Gen II Parts in official Kixeye forum Posts.

ADVM

- Common abbreviation for Advanced Materials.
The first sturctures requiring the use of ADVM were released over a month prior to the release of Advanced Materials.
Firsts & Records
Quotes
"

Sectors have proven to be rich with materials and a new resources has just been unearthed. Advanced Materials are entering the fold and deposits are popping up all across the sectors. This is your chance to harvest this new material and get a leg up on your greedy neighbors. Advanced Material Deposits are the only way to upgrade your Advanced Structures, so claim them while you can!

"



 
— Advanced Material Deposits Briefing [src]
Related Pages
External Links
Gallery
Images may have been resized to fit in the page. Click on an image to view actual size.
Gallery - Related Icons
Community content is available under
CC-BY-SA
unless otherwise noted.