T • C
   ATTENTION : ADDITIONAL WORK REQUIRED !   

This Article may not meet the War Commander Wiki's Standards and may contain Incomplete or Missing Information.
You can help by Expanding this Article.
---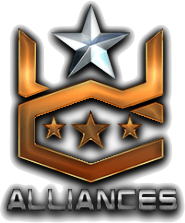 Alliance Manager
The Alliance Manager is a feature that allows you to team up with your friends and manage your Alliance in-game!
Join an Alliance
The player may join an alliance by the invitation.
The logo of Alliance Manager will be flickering to tell the players about the invitation.
Alliance Operations
Creating an Alliance
The player may enter a tag with up to 5 characters and an Alliance name to create the Alliance.
The Alliance name must be greater than 3 characters. and can only contain alphanumeric characters, -, _ and spaces.
Adding Alliance Members
Alliance Ranks & Rolls
Disbanding an Alliance
The player must remove everyone from the Alliance in order to disband it.
Update History
Listed in Reverse Chronological Order -- Click Expand to View Earliest Updates
Additional Facts
Trivia
All Alliance Member's Bases appear as Friends on the World Map ( Green Base ) to each other.
The creator may invite the player by clicking on the player's base on the world map then choose invite.
Plans for in-game Alliances were first mentioned by Dave Scott in a forum post dated on Oct 13, 2011.
Related Pages
Related Pages
External Links
Gallery
Images may have been resized to fit in the page. Click on an image to view actual size.
Video
Community content is available under
CC-BY-SA
unless otherwise noted.