T • C
   ATTENTION : ADDITIONAL WORK REQUIRED !   

This Article may not meet the War Commander Wiki's Standards and may contain Incomplete or Missing Information.
You can help by Expanding this Article.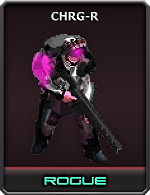 Unit Scouting Report
Scouts have observed the CHRG-R and have gathered the following information (

) :
OFFENSIVE HIGHLIGHTS

 :

DEFENSIVE HIGHLIGHTS

 :

Thorium-Infused

- Description here..
Update History
Listed in Reverse Chronological Order -- Click [ Expand ] to View Earliest Updates
Additional Facts
Trivia
The CHRG-R is a modified Rogue Faction version of the Lead Operator with several differences, including :

Appearance

 : The CHRG-R has Purple paint highlights instead of the Yellow found on the Lead Operator.

Speed

 : The CHRG-R has a faster movement speed than the Lead Operator.

Damage Type

 : CHRG-R produces the Area Damage Type ( ) instead of Sustain Damage ( ).

The CHRG-R is originally reffered to the

Corrupted Militia

in the Nightmare: Into Chaos Discussion Thread. ( Ref )
Firsts & Records
Quotes
"

Insert text here, without quotes.

"



 

— Attribution 
Related Pages
External Links
Gallery
Images may have been resized to fit in the page. Click on an image to view actual size.
Community content is available under
CC-BY-SA
unless otherwise noted.