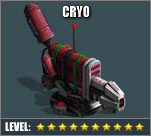 SPLASH DAMAGE
INFANTRY
VEHICLE
AIR
YES
GOOD
BEST
CAN'T HIT
( T ) • ( C )
  STATUS EFFECT WEAPON : CRYO  
Decreases the Movement Speed of All Affected Units  //  AoE Weapon
Upgrade Progression
LEVEL
UPGRADE COST
UPGRADE
TIME
DEFENSE
LAB
EQUIPPING COST
SETTING
TIME
ROF
RANGE
DAMAGE
( DPS )
POWER
USED
Metal
Oil
Thorium
Metal
Oil
Thorium
1
15,000,000
15,000,000
500,000
5s
8
250
250
0
5s
12
355
22
1,100
2
20,000,000
20,000,000
200,000
5s
9
5,000
5,000
0
5s
12
379
30
1,200
3
20,000,000
20,000,000
300,000
5s
9
58,600
51,400
0
5s
12
410
40
1,300
4
25,000,000
20,000,000
400,000
5s
10
366,200
347,550
0
5s
12
443
52
1,400
5
25,000,000
20,000,000
500,000
5s
10
2,288,800
2,349,300
0
5s
12
479
69
1,500
6
40,000,000
40,000,000
1,500,000
5s
10
3,375,000
3,375,000
120,000
5s
12
479
153
1,600
7
40,000,000
40,000,000
2,000,000
5s
10
3,656,250
3,656,250
150,000
5s
12
479
168
1,700
8
80,000,000
80,000,000
4,000,000
5s
10
7,312,500
7,312,500
300,000
5s
12
540
183
1,800
9
90,000,000
90,000,000
0
5d
10
10,968,750
10,968,750
450,000
5s
12
550
199
1,900
10
100,000,000
100,000,000
0
5d
14,625,000
14,625,000
600,000
5s
12
600
214
2,000
TOTAL
455,000,000
445,000,000
9,400,000
10d
Appearance Progression
APPEARANCE PROGRESSION
LEVEL 1
LEVEL 2
LEVEL 3
LEVEL 4
LEVEL 5
LEVEL 6
LEVEL 7
LEVEL 8
LEVEL 9
LEVEL 10
Related Missions
STANDARD MISSION  ( T )
MISSION
ICON
MISSION DESCRIPTION
COMPLETION AWARDS
IMAGES
METAL
OIL
Pre
Post
Cold Front
Unlock Cryo Cannon in Defense Lab
2,000,000
2,000,000
X
X
Some Missions May Not Be Available Until The Completion Of Others.
Update History
Listed in Reverse Chronological Order -- Click [ Expand ] to View Earliest Updates
Additional Facts
The Cryo Turret produces the Cryo ( ) Status Effect which will slow down any Ground Unit to enters its AoE.
The Cryo Turret is a Area of Effect ( AoE ) weapon.

It produces the Cryo Effect over a wide area lasting for a length of time.
Trivia
The Cryo Turret is the first Turret to require Thorium to Unlock and Upgrade.
The Cryo Turret's primary function is to slow them down attacking Ground Units to allow other Defenses the time to destroy them.
Pixel Sheet Code : Tower 10
Firsts & Records
Quotes
Click Expand to View Additional Quotes
"

The Cryo Cannon launches shells filled with a chemical designed to ice over a wide area instantly, slowing the movement of any attackers in a flash freeze.

"

 

— In-Game Description 
"

FREEZE FRAME - It's getting chilly, Commander - better bundle up!

"

 

— Level 1 Message 
"

THE ICEMAN COMETH - There's no easier target than an enemy on ice!

"

 

— Level 5 & 10 Message 
"

MISSION - Commander, you should research the Cryo Cannon, it would let us roll out an icy welcome mat for our enemies.

"

 

— Mission: Cold Front 
"

MISSION - There will be no escape for the pathetic fools that dare to attack our base!

"

 

— Mission: Cold Front - Complete 
Related Pages
External Links
Gallery - Animated
Gallery
Images may have been resized to fit in the page. Click on an image to view actual size.
Video
Community content is available under
CC-BY-SA
unless otherwise noted.