---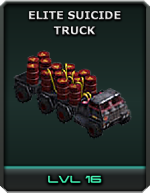 SPLASH DAMAGE
SPACE
INFANTRY
VEHICLE
AIR
BUILDING
MAP SPEED
YES
100
BEST
GOOD
CAN'T HIT
OK
0.8
( T )  •  ( C )
ELITE ENHANCEMENTS
Adds Napalm Status Effect Upon Impact
( T ) • ( C )
  STATUS EFFECT WEAPON : NAPALM  
Sets Targets On Fire Causing Additional Time Released Damage Over Duration of Effect
Stat Progression
Level
Upgrade Cost
Upgrade
Time
Tech
Center
Production Cost
Speed
Health
Range
Damage
(DPS)
Metal
Oil
Thorium
Metal
Oil
1
1,000,000
900,000
0
4m
5
16,000
20,000
2.5
4,000
30
7,000
2
1,400,000
1,260,000
0
5m
6
20,800
26,000
2.5
4,250
30
11,000
3
1,960,000
1,764,000
0
10m
6
27,000
33,800
2.5
4500
30
12,500
4
2,744,000
2,469,600
0
30m
6
35,200
44,000
2.5
4,750
30
14,000
5
3,841,600
3,457,400
0
30m
7
2.5
5,000
30
15,500
6
5,378,240
4,840,400
0
7
59,600
74,400
2.5
5,250
30
17,000
7
7,529,540
6,776,600
0
8
77,400
96,800
2.5
5,500
30
18,500
8
10,541,360
9,487,200
0
8
2.5
5,750
30
20,000
9
14,757,900
13,282,100
0
9
125,000
150,000
2.5
6,500
30
24,000
10
20,661,060
18,595,000
400,000
5s
9
175,000
175,000
2.5
7,540
30
28,080
11
20,661,060
18,595,000
400,000
5s
9
175,000
175,000
2.5
8,250
30
30,800
12
22.727.170
24,999,890
800,000
5s
10
175,000
175,000
2.5
9,000
30
33,600
13
24,999,890
27,499,880
1,200,000
5s
10
175,000
175,000
2.5
9,750
30
36,400
14
5s
10
175,000
175,000
2.5
30
15
5s
10
175,000
175,000
2.5
11,250
30
42,000
16
10
175,000
175,000
2.5
30
Total
Note : Showing Data for a Non-Customized Unit
Yellow indicates increase from previous level. Underline Indicates Max Value.
Build Times & Repair Information
Level 10 War Factory Build & Repair Times Per Elite Suicide Truck Level
Level 1
Level 2
Level 3
Level 4
Level 5
Level 6
Level 7
Level 8
Level 9
Level 10+
Build
1h 31m
1h 40m
1h 50m
1h 59m
2h 17m
2h 26m
1h 40m
Repair
22m 00s
23m 51s
27m 31s
29m 21s
Level 10 War Factory Repair Costs Per Elite Suicide Truck Level
Metal
5,400
7,040
11,920
15,480
Oil
6,760
8,800
14,880
19,360
Times for other War Factory Levels may be calculated by adding 5% for each level below Level 10.
Related Special Ops
RELATED SPECIAL OPs  ( T )
NAME
ICON
CLASS
LEVEL
DESCRIPTION
BENEFIT
LENGTH
EXTEND
COST
Heavy Payload
Defensive
Common
8 max level Elite Suicide Trucks deploy when your Base is under Attack
12h
50,000
More Information and a the Full List of Ops available here: Special Ops
History of Availability
Additional Facts
The Elite Suicide Truck was introduced to the Event Shop during Operation: Crossfire.
The Elite Suicide Truck was removed from the Event Shop at the conclusion of Operation: Hellstorm 2.
The Elite Suicide Truck received the ability to be upgraded to Veteran Level 5 in G.U.: April 2nd, 2014.
The Elite Suicide Truck's blast radius is 2.5x bigger than the Suicide Bomber's radius.
With a top end speed of 2.5 the Suicide Truck was tied with the Flame Assault Vehicle or Flame Assault Vehicle as the fastest Land Unit before the introduction of the Viper Mech in Operation: Desert Recon . 
The Elite Suicide Truck's speed is not constant. It starts out at approximately 0.9 and accelerates until it reaches 2.5. This requires it to travel a distance of around 500 - 600. ( Distance is a estimation )
It appears the armor of the Suicide Truck is more vulnerable to Anti-Infantry bullets than to Anti-Vehicle bullets (Copter Drones > Warhawks). However, Information dated on 23 May 2013, state possible armor changes may be likely to occur. The same case goes for the Flame Assault Vehicle and Shock Tank.
The Regular Suicide Truck has 6 barrels of explosives while the Elite version has 14.
In-Game Quotes
"

Nothing can survive the destructive power of the Elite Suicide Truck's explosive cargo.

"



 

— Preview Server Description 
"

The Elite Suicide is loaded with devastating explosives and Thorium enhanced napalm. Any enemies lucky enough to survive the blast will burn in the fires left behind.

"



 

— Level 10 Description 
Unit Voice
Selecting
I give my life for my purpose.
At your disposal.
Moving
I have no regrets.
I am at peace.
Attacking
Animated Photo
Gallery
Community content is available under
CC-BY-SA
unless otherwise noted.