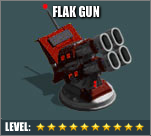 SPLASH DAMAGE
INFANTRY
VEHICLE
AIR
YES
CAN'T HIT
CAN'T HIT
BEST
Upgrade Progression
LEVEL
UPGRADE COST
UPGRADE
TIME
DEFENSE
LAB
EQUIPPING COST
SETTING
TIME
ROF
RANGE
DAMAGE
( DPS )
POWER
USED
Metal
Oil
Thorium
Metal
Oil
Thorium
1
2,500,000
2,500,000
0
3s
5
250
250
0
5s
50
320
952
100
2
5,000,000
5,000,000
0
5m
6
5,000
5,000
0
5s
50
330
1,047
200
3
10,000,000
10,000,000
0
10m
7
58,600
51,400
0
5s
50
340
1,142
300
4
15,000,000
15,000,000
0
30m
8
366,200
347,550
0
5s
50
350
1,238
400
5
25,000,000
20,000,000
0
1h
10
2,288,800
2,349,300
0
5s
50
360
1,333
500
6
27,000,000
27,000,000
800,000
5s
10
3,375,000
3,375,000
120,000
5s
50
400
1,466
600
7
29,250,000
29,250,000
1,000,000
5s
10
3,656,250
3,656,250
150,000
5s
50
400
1,600
700
8
58,500,000
58,500,000
4,000,000
5s
10
7,312,500
7,312,500
300,000
5s
50
460
1,733
800
9
90,000,000
90,000,000
0
5d
12
10,968,750
10,968,750
450,000
5s
50
600
2,304
900
10
90,000,000
90,000,000
0
5d
12
14,625,000
14,625,000
600,000
5s
50
600
2,876
1,000
TOTAL
352,250,000
347,250,000
5,800,000
10d 1h 45m
Appearance Progression
APPEARANCE PROGRESSION
LEVEL 1
LEVEL 2
LEVEL 3
LEVEL 4
LEVEL 5
LEVEL 6
LEVEL 7
LEVEL 8
LEVEL 9
LEVEL 10
Related Missions
STANDARD MISSION  ( T )
MISSION
ICON
MISSION DESCRIPTION
COMPLETION AWARDS
IMAGES
METAL
OIL
Pre
Post
Flak Attack
Unlock Flak Turret in Defense Lab
1,500,000
1,500,000
X
X
Some Missions May Not Be Available Until The Completion Of Others.
Update History
Listed in Reverse Chronological Order -- Click [ Expand ] to View Earliest Updates
Additional Facts
The Flak Gun Turret is able to target and fire upon all Aircraft and Airborne Infantry.
The Flak Gun Turret will

NOT

Target or Fire upon :
Trivia
Flak Damage is the Aerial equivalent of Splash Damage.

Upon hitting a target an explosion is produced which will damage anything in close proximity to the point of impact.

The Flak Gun Turret is not very effective against the fast moving Strafing Aircraft such as the Raptor.
The term Flak was derived during World War II from the German FlugabwehrKanone, for "aircraft defense cannon"
Pixel Sheet Code : Tower 4
Firsts & Records
War Commander First

 :

The First released Turret to be exclusively Anti-Air - Flak Gun Turret
Quotes
Click Expand to View Additional Quotes
"

Flak protects your airspace with clouds of shrapnel, easily bringing down groups of enemy aircraft.

"



 

— In-Game Description 
"

Aircraft flying through schrapnel clouds rarely return, Commander!

"



 

— Level 5 Message 
"

MISSION - Commander, if I slept, I'd sleep better if we had Flak Turrets defending our airspace. Don't you care about my peace of mind?

"



 

— Mission - Flak Attack 
Related Pages
External Links
Gallery
Images may have been resized to fit in the page. Click on an image to view actual size.
Gallery - Historical
Images may have been resized to fit in the page. Click on an image to view actual size.
Video
Community content is available under
CC-BY-SA
unless otherwise noted.