---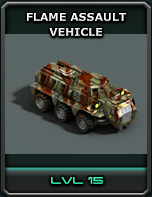 SPLASH DAMAGE
SPACE
INFANTRY
VEHICLE
AIR
BUILDING
MAP SPEED
YES
150
OK
NOT GREAT
CAN'T HIT
GOOD
0.8
( T ) • ( C )
  STATUS EFFECT WEAPON : NAPALM  
Sets Targets On Fire Causing Additional Time Released Damage Over Duration of Effect
Stat Progression
Level
Upgrade Cost
Upgrade
Time
Tech
Center
Production Cost
Speed
Health
Range
Damage
(DPS)
FTC
Metal
Oil
Thorium
Metal
Oil
1
N/A
N/A
N/A
Instant
6
14,400
11,520
2.5
6,000
110
1,099
2
2
1,400,000
1,260,000
0
30m
18,720
14,980
2.5
6,250
120
1,467
2
3
1,960,000
1,764,000
0
30m
24,300
19,440
2.5
6,500
130
1,691
2
4
2,744,000
2,469,600
0
1h 0m
31,680
25,340
2.5
6,750
133
1,893
2
5
3,841,600
3,457,400
0
2h 0m
41,220
32,980
2.5
7,000
136
2,107
2
6
5,378,240
4,840,400
500,000
5s
8
53,640
42,910
2.5
7,250
140
3,480
3
7
7,529,540
6,776,600
600,000
5s
9
69,660
55,730
2.5
7,500
145
3,800
3
8
10,541,360
9,487,200
700,000
5s
9
90,5400
72,4300
2.5
7,750
150
5,867
4
9
14,757,900
13,282,100
800,000
5s
10
125,000
125,000
2.5
8,000
160
6,933
4
10
14,757,900
13,282,100
1,000,000
5s
10
150,000
150,000
2.5
8,500
180
7,627
4
11
14,757,900
13,282,100
1,000,000
5s
10
150,000
150,000
2.5
9,350
180
8,395
4
12
14,757,900
13,282,100
2,000,000
5s
10
150,000
150,000
2.5
10,200
180
9,152
4
13
28,925,480
26,032,900
3,000,000
5s
10
150,000
150,000
2.5
11,050
180
9,920
4
14
28,925,480
26,032,900
3,000,000
5s
10
150,000
150,000
2.5
11,900
180
10,677
4
15
28,925,480
26,032,900
4,000,000
5s
10
150,000
150,000
3.0
15,300
180
12,203
4
16
43,388,220
39,049,400
4,000,000
4d 7h 41m
10
150,000
150,000
3.0
16,150
180
12,960
4
Total
222,591,000
200,331,700
20,600,000
4d 15h 41m
Note : Showing Data from Non-Customized Unit
Yellow indicates increase from previous level. Underline Indicates Max Value.
FTC = Number of Flamethrower Units Contained Inside.
Build & Repair Times
Level 10 War Factory Build & Repair Times Per FAV Level
LEVEL 1
LEVEL 2
LEVEL 3
LEVEL 4
LEVEL 5
LEVEL 6
LEVEL 7
LEVEL 8
LEVEL 9
LEVEL 10+
BUILD
59m 24s
59m 24s
59m 24s
59m 24s
59m 24s
1h 10m
2h 4m
2h 17m
REPAIR
11m 53s
11m 53s
11m 53s
11m 53s
11m 53s
24m 57s
27m 26s
Level 10 War Factory Repair Costs Per FAV Level
METAL
2,880
3,744
4,860
6,336
8,244
25,000
30,000
OIL
2,304
2,996
3,888
5,068
6,596
25,000
30,000
Times for other War Factory Levels may be calculated by adding 5% for each level below Level 10.
Schematic Summary
FLAME ASSAULT VEHICLE SCHEMATIC SUMMARY   ( T )
Medium Engine 
Medium Armor 
Flamethrower 
Wheels 
Press Down Arrow Button to View the Components of each Slot.  

•

  Hover over individual Components to view each.
History of Availability
FAV Event Shop History
EVENT SHOP STATUS
eXP COST / WCP
SPECIAL EVENT

INTRODUCTION

25,000 xp
Operation: Warlord

Prize Hold

Unavailable
Operation: Crossfire
Template:Return to Event Shop
25,000 xp
Operation: Front Line
eXP Sale
20,000 xp
Operation: Undead Rising
eXP Sale
12,500 xp
Operation: Red Storm (2014)
Wave Checkpoint Prize
Wave 11
Operation: Iron Reign
eXP Sale
12,500 xp
Operation: Iron Lord
eXP Sale
12,500 xp
Operation: Undead Swarm
eXP Sale  

•

  

REMOVED

2,000 xp
Operation: Dragon's Oath
Offered in Event Shop Continuously Except Where Otherwise Stated  

•

  eXP = Event XP  

•

  WCP = Wave Checkpoint Prize
  FAV Shadow Ops History  
AVAILABILITY STATUS
PRIZE TIER
CYCLE NUMBER
CYCLE DATES
1st Appearance
Tier 1
Cycle # 4
Oct 03, 2014 Thru Oct 24, 2014
2nd Appearance
Tier 1
Cycle #6
Nov 28, 2014 Thru Dec 18, 2014
3rd Appearance
Tier 1
Cycle #8
Jan 29, 2015 Thru Feb 19, 2015
Only Offered As Shadow Ops Prize For Dates Listed
Update History
Listed in Reverse Chronological Order -- Click Expand to View Earliest Updates
Additional Facts
The FAV produces the Status Effect : Napalm once it reaches Level 6 and above.
The FAV releases Flamethrowers upon its destruction much like the Last Stand Defenders eject from destroyed Buildings.
The Flamethrower's released by the FAV are equal in Level to the Players Flamethrower.
Mortars and Machine Gun Turrets are very weak against the FAV due to its speed.
The FAV is able to Shoot On The Move.
The FAV may attacks multiple targets within Range at once.  
The FAV uses only one stream per target when attacking even if the target is the only one on the battlefield in range.
FAVs use one stream of flames per target (on level 8 they have 4 maximum streams of flames). So when they're facing one target, the FAV shoots one stream of flame, doing its DPS. When there are 2 targets, it will shoot 2 streams of flames each with the DPS given. But if the 2 targets are too close together, they get the splash damage from the other flame too, effectively doubling the damage it receives. So if 4 or more targets are bunched up, all the targets will receive 4 times the DPS of a FAV. That's why the FAV does more DPS to bunched up units than to singled out units. So spread out your units and they will only get the DPS of the FAV once, making the FAV less effective in total. 
Unlike most units that you target directly where desired, FAV perform more effectively on "strafing" style attack runs. That is to say instead of hitting the target directly, move FAV in a straight line past desired target allowing them to burn it to ashes with some health left, hopefully.
The FAV was the first Unit to be have the ability to Shoot On The Move.
The In-Game chat name for the Flame Assault Vehicle is FAV (as a general name of flame assault vehicle is FAV).
Pixel Sheet Code = 46.
Related Pages
In-Game Quotes
Click Expand to View Additional Quotes
"

The FAV houses a deadly cargo of Flamethrowers, The FAV's passengers spray fire even while it's on the move, and continue the assault upon the vehicles destruction

"



 

— In-game description 
"

"Liquid thorium enhances the fire launched by the passengers of the Flame Assault Vehicle. Enemies caught in the crossfire are set ablaze."

"



 

— Level 6 description 
"

Mess with fire and you're gonna get burned.

"



 

— Unlocked post description 
"

Customize your FAV to leave your enemy in a pile of ashes.

"



 

— Unlocks Post on FB 
External Links
Gallery - Animated
Gallery
Images may have been resized to fit in the page. Click on an image to view actual size.
Video
| | |
| --- | --- |
| War Commander Operation Warlord | War commander 10 lvl 1 FAVs in action 2 |
Community content is available under
CC-BY-SA
unless otherwise noted.