T • C
   ATTENTION : ADDITIONAL WORK REQUIRED !   

This Article may not meet the War Commander Wiki's Standards and may contain Incomplete or Missing Information.
You can help by Expanding this Article.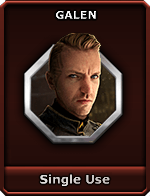 DAMAGE TYPE
RELOAD
CLIP
DAM / SHOT
FIRE RATE
TARGETS
SPLASH
ABSORPTION
N/A ( n/a sec )
1
N/A
N/A ( n/a )
NO
UNLOCK REQUIREMENTS
SIZE  
UNLOCK RESTRICTIONS
None
500  
Unlimited
( T ) • ( C )
    HERO ( SINGLE USE ) UNIT    
Hero version of the Caretaker  •  Single Use Heroes may only be deployed ONE time.
Stat Progression
Level
Upgrade Cost
Upgrade
Time
Tech Center
Speed
Health
Range
Damage
Metal
Oil
Thorium
Per Sec
Per Shot
1
N / A
N / A
N / A
N / A
N / A
2.5
10,000,000
250
N / A
N / A
Total
N / A
N / A
N / A
N / A
Note : Single Use Heroes are NOT available to be Custimized.
Community content is available under
CC-BY-SA
unless otherwise noted.