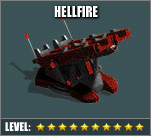 SPLASH DAMAGE
INFANTRY
VEHICLE
AIR
YES
BEST
GOOD
CAN'T HIT
Upgrade Progression
LEVEL
UPGRADE COST
UPGRADE
TIME
DEFENSE
LAB
EQUIPPING COST
SETTING
TIME
ROF
RANGE
DAMAGE
( DPS )
POWER
USED
Metal
Oil
Thorium
Metal
Oil
Thorium
1
15,000,000
15,000,000
0
3s
8
250
250
0
5s
10
387
1,584
100
2
20,000,000
20,000,000
0
5m
9
5,000
5,000
0
5s
10
400
1,782
200
3
20,000,000
20,000,000
0
10m
9
58,600
51,400
0
5s
10
425
1,980
300
4
25,000,000
20,000,000
0
30m
10
366,200
347,550
0
5s
10
450
2,178
400
5
25,000,000
20,000,000
0
1h 0m
10
2,288,800
2,349,300
0
5s
10
468
2,376
500
6
27,000,000
27,000,000
800,000
5s
10
3,375,000
3,375,000
120,000
5s
10
468
2,666
600
7
29,250,000
29,250,000
1,000,000
5s
10
3,656,250
3,656,250
150,000
5s
10
468
2,933
700
8
58,500,000
58,500,000
2,000,000
5s
10
7,312,500
7,312,500
300,000
5s
16
520
4,800
800
9
87,750,000
87,750,000
3,000,000
5s
10
10,968,750
10,968,750
450,000
5s
16
560
5,280
900
10
117,000,000
117,000,000
4,000,000
5s
10
14,625,000
14,625,000
600,000
5s
16
600
5,760
1,000
TOTAL
414,500,000
414,500,000
10,800,000
1h 45m
Appearance Progression
APPEARANCE PROGRESSION
LEVEL 1
LEVEL 2
LEVEL 3
LEVEL 4
LEVEL 5
LEVEL 6
LEVEL 7
LEVEL 8
LEVEL 9
LEVEL 10
Related Missions
STANDARD MISSION  ( T )
MISSION
ICON
MISSION DESCRIPTION
COMPLETION AWARDS
IMAGES
METAL
OIL
Pre
Post
Bringing Hell
Unlock Hellfire Turret in Defense Lab
2,000,000
2,000,000
X
X
Some Missions May Not Be Available Until The Completion Of Others.
Update History
Listed in Reverse Chronological Order -- Click [ Expand ] to View Earliest Updates
Additional Facts
The Hellfire Turret must be placed on a Defense Platform.
The Hellfire Turret's missile may be targeted and shot down by any Unit that is able to Fire on Aircraft except:
The Hellfire Turret, Level 1 - 5 fires 1 missile in a high slow arc.
The Hellfire Turret, Level 6 - up fires 2 missiles in a fast low arc.

In addition, the two missiles split into clusters just prior to impact similar to the missiles fired from the Elite Hellfire.
Quotes
Click Expand to View Additional Quotes
"

Hellfires are medium-range rockets that pack a serious punch. These turrets rain down devastation on base invaders.

"

 

— In-Game Description 
"

ROCKET LAUNCH - Everyone knows that if you play with fire, you're going to get burned, Commander!

"

 

— R.U.B.I. (Unlocks Hellfire Turret) 
"

BRAG UNLOCKS HELLFIRE TURRET - Screams of terror will be like music to your ears, Commander.

"

 

— R.U.B.I. 
"

MISSION - Commander, you should research the Hellfire Turret. Then we can lay out a fire filled welcome mat four our foes.

"

 

— Mission - Bringing Hell 
"

MISSION - Excellent Commander! I can already imagine our enemies bursting into flames.

"

 

— Mission - Bringing Hell Complete 
Related Pages
Gallery
Images may have been resized to fit in the page. Click on an image to view actual size.
Community content is available under
CC-BY-SA
unless otherwise noted.