T • C
   ATTENTION : ADDITIONAL WORK REQUIRED !   

This Article may not meet the War Commander Wiki's Standards and may contain Incomplete or Missing Information.
You can help by Expanding this Article.
---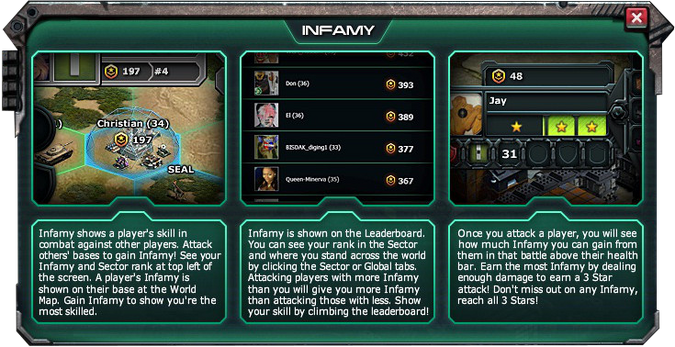 General Information
Infamy can earn you medals for use in the gear store and is obtained by destroying player bases.


Acquiring & Losing Infamy
Destroying player bases will gain you infamy.
Destroying the base of a player with no infamy will give you an amount of infamy depending on your current amount (The more infamy you have,the less infamy you will receive per destroyed base)
If the player destroyed has infamy, destroying the player's base will grant you more infamy compared to those without any infamy (The more infamy the destroyed player has, the more extra infamy you will receive upon destroying the player.


Displaying Infamy
Infamy Uses
The amount of infamy you have will put you in a division. You can earn medals for use in the gear store - the amount of medals earned depends on what division you are in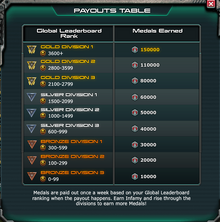 Update History
Listed in Reverse Chronological Order -- Click [ Expand ] to View Earliest Updates
There is a new update on Individual Payouts introduced on June 2019.
Infamy was introduced in the Game Update of Aug 21, 2013.
Additional Facts
Trivia
Quotes
Click Expand to View Additional Quotes
"

Introducing Infamy – your chance to prove you're the best on the battlefield! Attack other players' bases to earn Infamy. Add or subtract from your tally by winning or losing player battles, and head to the Leaderboard to see how you stack up!

"

 

— Kixeye 
"

Infamy is live, Commander! Remember - win 1, 2, or 3 stars by doing 50%, 75%, or 100% damage to the base you're attacking. Best of luck, Commander!

"

 

— Kixeye 
Related Pages
External Links
Gallery
Images may have been resized to fit in the page. Click on an image to view actual size.
Video
Community content is available under
CC-BY-SA
unless otherwise noted.