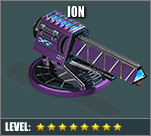 SPLASH DAMAGE
INFANTRY
VEHICLE
AIR
NO
GOOD
BEST
CAN'T HIT
Upgrade Progression
LEVEL
UPGRADE COST
UPGRADE
TIME
DEFENSE
LAB
EQUIPPING COST
SETTING
TIME
ROF
RANGE
DAMAGE
( DPS )
POWER
USED
Metal
Oil
Thorium
Metal
Oil
Thorium
1
5,000,000
5,000,000
500,000
3d
6
250
250
0
5s
8
400
6,393
100
2
10,000,000
10,000,000
1,000,000
4d
7
5,000
5,000
0
5s
8
425
7,245
200
3
15,000,000
15,000,000
1,500,000
5d
8
58,600
51,400
0
5s
8
450
8,098
300
4
20,000,000
20,000,000
2,000,000
6d
9
366,200
347,550
0
5s
8
475
8,950
400
5
25,000,000
25,000,000
2,500,000
7d
10
2,288,800
2,349,300
0
5s
8
500
10,229
500
6
40,000,000
40,000,000
3,000,000
7d
10
3,375,000
3,375,000
120,000
5s
8
525
11,252
600
7
60,000,000
60,000,000
3,500,000
7d
10
3,656,250
3,656,250
150,000
5s
8
550
12,275
700
8
80,000,000
80,000,000
4,000,000
7d
10
7,312,500
7,312,500
300,000
5s
8
600
13,298
800
9
100,000,000
100,000,000
4,500,000
7d
10
10,968,750
10,968,750
450,000
5s
8
600
14,321
900
10
120,000,000
120,000,000
5,000,000
7d
10
14,625,000
14,625,000
600,000
5s
8
600
15,344
1,000
TOTAL
475,000,000
475,000,000
27,500,000
60d

   #s3gt_translate_tooltip_mini { display: none !important; }
Appearance Progression
APPEARANCE PROGRESSION
LEVEL 1
LEVEL 2
LEVEL 3
LEVEL 4
LEVEL 5
LEVEL 6
LEVEL 7
LEVEL 8
LEVEL 9
LEVEL 10
Update History
Listed in Reverse Chronological Order -- Click [ Expand ] to View Earliest Updates
Additional Facts
The Ion Turret must be placed on a Defense Platform.
The Ion Turret reduces the active duration of time of Invulnerability Shields.

Each shot received from an Ion Weapon reduces the duration of the Invulnerability Shield by a undisclosed amount.
Trivia
Quotes
Click Expand to View Additional Quotes
"

Targets ground units and inflicts powerful Ion damage, which penetrates most armor types and reduces length of damage shields.

"

 

— In-Game Description 
"

VANQUISHERS BEWARE - Brilliant, Commander! With Ion technology in our defenses enemy air doesn't stand a chance.

"

 

— Level 1 Message 
"

SHIELD SLAYER - Squash Vanquisher shields like bugs!.

"

 

— Level 5 Message 
Related Pages
Gallery
Images may have been resized to fit in the page. Click on an image to view actual size.
Community content is available under
CC-BY-SA
unless otherwise noted.