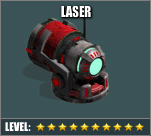 SPLASH DAMAGE
INFANTRY
VEHICLE
AIR
YES
GOOD
GOOD
CAN'T HIT
Upgrade Progression
LEVEL
UPGRADE COST
UPGRADE
TIME
DEFENSE
LAB
EQUIPPING COST
SETTING
TIME
ROF
RANGE
DAMAGE
( DPS )
POWER
USED
Metal
Oil
Thorium
Metal
Oil
Thorium
1
2,500,000
2,500,000
0
4m
5
250
250
0
5s
12
315
1,951
100
2
5,000,000
5,000,000
0
10m
6
5,000
5,000
0
5s
12
335
2,146
200
3
10,000,000
10,000,000
0
1h
7
58,600
51,400
0
5s
12
365
2,536
300
4
15,000,000
15,000,000
0
4h 0m
8
366,200
347,550
0
5s
12
385
2,731
400
5
25,000,000
20,000,000
0
10h 0m
10
2,288,800
2,349,300
0
5s
12
410
2,926
500
6
40,000,000
40,000,000
1,500,000
5s
10
3,375,000
3,375,000
120,000
5s
12
410
3,239
600
7
40,000,000
40,000,000
2,000,000
5s
10
3,656,250
3,656,250
150,000
5s
12
410
3,512
700
8
80,000,000
80,000,000
4,000,000
5s
10
7,312,500
7,312,500
300,000
5s
16
470
3,793
800
9
120,000,000
120,000,000
6,000,000
5s
10
10,968,750
10,968,750
450,000
5s
16
500
4,064
900
10
160,000,000
160,000,000
8,000,000
5s
10
14,625,000
14,625,000
600,000
5s
16
550
4.374
1,000
TOTAL
497,500,000
492,500,000
21,500,000
15h 14m
Appearance Progression
APPEARANCE PROGRESSION
LEVEL 1
LEVEL 2
LEVEL 3
LEVEL 4
LEVEL 5
LEVEL 6
LEVEL 7
LEVEL 8
LEVEL 9
LEVEL 10
Related Missions
STANDARD MISSION  ( T )
MISSION
ICON
MISSION DESCRIPTION
COMPLETION AWARDS
IMAGES
METAL
OIL
Pre
Post
Leathal Light
Unlock Laser Turret in Defense Lab.
2,000,000
2,000,000
X
X
Some Missions May Not Be Available Until The Completion Of Others.
Update History
Listed in Reverse Chronological Order -- Click [ Expand ] to View Earliest Updates
Additional Facts
Trivia
The Laser Turret, Level 6+ shoots a thicker laser producing a larger Splash Radius ( AoE ).
When the Laser Turret was added, there was a mistake of adding the Plasma Turret and Rocket Barrage Turret into the unlock menu.

Although corrected by Kixeye, players who unlocked them were able to keep them.

The Laser Turret was buffed its Range from 345 to 410 two hours after its initial release due to player feedback on the forums.
Pixel Sheet Code : Tower 6
In-Game Quotes
Click Expand to View Additional Quotes
"

High-energy Laser turrets charge up to full power and deals escalating damage to their target and nearby enemies.

"

 

— In-Game Description 
"

LIGHT OF DEATH - Your base is getting hot, Commander! If the troops don't scare off invaders, the heat will!

"

 

— Level 5 Message 
"

MISSION - Commander, unlocking the Laser Turret will vastly improve our defenses. The power it will consume will be put to good use.

"

 

— Mission - Lethal Light 
Related Pages
External Links
Wikipedia - Laser - Laser In Real Life
Gallery
Images may have been resized to fit in the page. Click on an image to view actual size.
Video
---
Community content is available under
CC-BY-SA
unless otherwise noted.