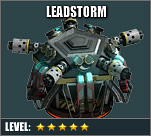 SPLASH DAMAGE
INFANTRY
VEHICLE
AIR
NO
GOOD
GOOD
GOOD
Upgrade Progression
LEVEL
UPGRADE COST
UPGRADE
TIME
DEFENSE
LAB
EQUIPPING COST
SETTING
TIME
ROF
RANGE
DAMAGE
(DPS)
POWER
USED
Metal
Oil
Metal / Oil
Thorium
1
50,000,000
50,000,000
3d
1
2,500,000
500,000
5s
142
500
490,000
1,000
2
100,000,000
100,000,000
4d
10
5,000,000
625,000
5s
142
525
580,000
2,000
3
150,000,000
150,000,000
5d
20
7,500,000
750,000
5s
142
550
670,000
3,000
4
200,000,000
200,000,000
6d
25
10,000,000
875,000
5s
142
575
760,000
4,000
5
250,000,000
250,000,000
7d
29
12,500,000
1,000,000
5s
142
600
850,000
5,000
TOTAL
750,000,000
750,000,000
25d
Appearance Progression
APPEARANCE PROGRESSION
LEVEL 1
LEVEL 2
LEVEL 3
LEVEL 4
LEVEL 5
General Information
The Leadstorm is a Corpus ( ) Faction Turret.

FACTION PERK

-

Adaptive Defenses

 :

Corpus Units and Platforms can not take more that

15%

of their Max Health in Damage from any given projectile.

FACTION BENEFIT

-

Corpus Benefit

 :

10%

Damage reduction to Defense Platform.
Setting the Leadstorm Turret
The Leadstorm is a Faction Turret :
The Leadstorm requires the Dozer to be place on a platform.
Update History
Listed in Reverse Chronological Order -- Click [ Expand ] to View Earliest Updates
Additional Facts
The Leadstorm may target up to

5 Enemies

at once.
The Leadstorm is an Indirect Firing Turret, meaning it can fire regardless of it's current Heading.
Trivia
Firsts & Records
Quotes
"

Multi-Target Machine Gun Turret, can target up to five enemies at once. Corpus Faction Bonus eligible.

"

 
— In-Game Description [src]
Related Pages
External Links
Gallery
Images may have been resized to fit in the page. Click on an image to view actual size.
Community content is available under
CC-BY-SA
unless otherwise noted.