T • C
   ATTENTION : ADDITIONAL WORK REQUIRED !   

This Article may not meet the War Commander Wiki's Standards and may contain Incomplete or Missing Information.
You can help by Expanding this Article.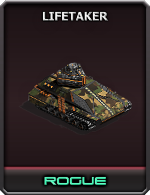 Unit Scouting Report
Scouts have observed the Lifetaker and have gathered the following information (

) :
Update History
Listed in Reverse Chronological Order -- Click [ Expand ] to View Earliest Updates
Additional Facts
Trivia
The Lifetaker is a modified Rogue Faction version of the Caretaker with several differences, including :
Firsts & Records
Quotes
"

Fierce Defenders - Fire resistant Eastern Horde Units can ignite ammunitions of the units they kill, damaging nearby units. They also have deadly Last stand Defenders

"

 
— Eastern Horde Faction Traits [src]
"

Choose Your Weapon - Using Burst fire units such as the Purifier will to do maximum damage when attacking their bases. Heavy Vehicles with armor will resist their Fire attacks.

"

 
— Eastern Horde Faction Traits [src]
Related Pages
External Links
Gallery
Images may have been resized to fit in the page. Click on an image to view actual size.
Community content is available under
CC-BY-SA
unless otherwise noted.