---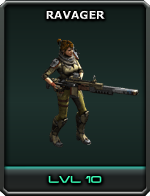 DAMAGE TYPE
RELOAD
CLIP
DAM / SHOT
FIRE RATE
TARGETS
SPLASH
BURST
60 ( 1.5 sec )
1
172,500
1 ( n / a )
NO
UNLOCK REQUIREMENTS
SIZE
UNLOCK RESTRICTIONS
Level 1 Siege Squadron
150
Maximum Unlocks : N / A
( T ) • ( C )
    UNIQUE UNIT    
A powerful unit with a Production Limit of 1  

•

  For more information see Unique Unit
Stat Progression
Level
Upgrade Cost
Upgrade
Time
Academy
Production Cost
Speed
Health
Range
Damage
(DPS)
Metal
Oil
Thorium
Metal / Oil
Thorium
1
N / A
N / A
N / A
N / A
N / A
N / A
N / A
2.8
827,500
305
83,607
2
100,000,000
100,000,000
0
3d
N / A
N / A
N / A
2.8
832,500
315
86,885
3
100,000,000
100,000,000
0
3d
N / A
N / A
N / A
2.8
837,500
325
90,164
4
100,000,000
100,000,000
0
3d
N / A
N / A
N / A
2.8
842,500
335
93,443
5
100,000,000
100,000,000
0
3d
N / A
N / A
N / A
2.8
847,500
345
96,721
6
100,000,000
100,000,000
0
3d
N / A
N / A
N / A
2.8
852,500
350
100,000
7
100,000,000
100,000,000
0
3d
N / A
N / A
N / A
2.8
857,500
350
103,279
8
100,000,000
100,000,000
0
3d
N / A
N / A
N / A
2.8
862,500
350
106,557
9
100,000,000
100,000,000
0
3d
N / A
N / A
N / A
2.8
867,500
350
109,836
10
100,000,000
100,000,000
0
3d
N / A
N / A
N / A
2.8
872,500
350
113,115
Total
900,000,000
900,000,000
0
27d
Note : Showing Data from Non-Customized Unit
Build Times & Repair Information
Level 10 Barracks Build & Repair Times For Ravager  ( T )
LEVEL
BUILD TIME
REPAIR TIME
REPAIR METAL COST
REPAIR OIL COST
1 - 20
N / A
N / A
N / A
N / A
Times For Lower Barracks Levels may be calculated by adding 5% for each level of Barracks below Level 10.
History of Availability
  Ravager Shadow Ops History  
AVAILABILITY STATUS
CAMPAIGN
CAMPAIGN DATES

INTRODUCTION

Campaign # 14 : Fallen Angels
Nov 03, 2017 Thru Jan 24, 2018
Only Offered As Shadow Ops Prize For Dates Listed
Update History
Listed in Reverse Chronological Order -- Click [ Expand ] to View Earliest Updates
Additional Facts
The Ravager is automatically unlocked for upgrading in the Academy when the Siege Squadron is unlocked.
The Ravager is deployed from the Siege Squadron in a Drop Pod that explode on impact revealing the Ravager.

The Drop Pod will do a small amount of damage to any unit or building it lands on.

The Ravager may be deployed from any of the three versions of the Siege Squadron.
The Ravager, once deployed into battle, is fully controllable by the player.
Trivia
Firsts & Records
War Commander First

 :

First Unit to be exclusively spawned ( deployed ) into battle by another unit ( Siege Squadron ) - The Ravager
First Infantry Unit not required to be produced prior to being utilized in battle - The Ravager
First Unique unit which the player can control multiple instances of in a single battle. - The Ravager
Quotes
Click Expand to View Additional Quotes
"

The first of their kind, Ravagers jump out of the Siege Squadron deep into enemy territory and get the job done. Regardless of what others think, their 16 second life expectancy upon landing is a source of pride within the group.

"



 
— In-Game Description [src]
Related Pages
External Links
Gallery
Images may have been resized to fit in the page. Click on an image to view actual size.
Video
For more videos on this topic see : Ravager Additional Video
Community content is available under
CC-BY-SA
unless otherwise noted.