---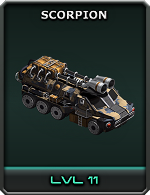 SPLASH DAMAGE
SPACE
INFANTRY
VEHICLE
AIR
BUILDING
MAP SPEED
YES
330
GOOD
GOOD
GOOD
BEST
0.6
  ( T ) • ( C )
  STATUS EFFECT WEAPON : CORROSION  
Increases The Amount Of All Incoming Damage  

•

  Causes Additional Damage Over Time ( DoT )
Stat Progression
Level
Upgrade Cost
Upgrade
Time
Tech
Center
Production Cost
Speed
Health
Range
Damage
(DPS)
Metal
Oil
Thorium
Metal
Oil
1
N / A
N / A
N / A
N / A
10
2,500,000
2,500,000
5.0
63,619
200
16,253
2
30,000,000
30,000,000
2,250,000
5s
10
6,500,000
6,500,000
5.0
71,370
220
17,507
3
35,000,000
35,000,000
3,000,000
5s
10
11,000,000
11,000,000
5.0
81,696
240
18,747
4
40,000,000
40,000,000
3,750,000
5s
10
15,000,000
15,000,000
5.0
102,375
250
20,000
5
50,000,000
50,000,000
4,500,000
5s
10
19,500,000
19,500,000
5.0
112,623
250
22,000
6
60,000,000
60,000,000
5,250,000
5s
10
24,000,000
24,000,000
5.0
122,850
250
24,000
7
70,000,000
70,000,000
6,000,000
5s
10
27,500,000
27,500,000
5.0
133,088
250
26,000
8
80,000,000
80,000,000
6,000,000
5s
10
32,000,000
32,000,000
5.0
143,325
250
28,000
9
90,000,000
90,000,000
6,000,000
5s
10
36,000,000
36,000,000
5.0
153,563
250
30,000
10
100,000,000
100,000,000
6,000,000
5s
10
40,000,000
40,000,000
5.0
163,800
250
32,000
11
160,000,000
160,000,000
20,000,000
5s
10
40,000,000
40,000,000
5.0
174,037
250
34,000
Total
715,000,000
715,000,000
62,750,000
0m 45s
Note : Showing Data from Non-Customized Unit

Yellow

indicates increase from previous level. Underline Indicates Max Value
Build Times & Repair Information
Level 10 War Factory Build & Repair Times Per Scorpion Level  ( T )
LEVEL 1
LEVEL 2
LEVEL 3
LEVEL 4
LEVEL 5
LEVEL 6
LEVEL 7
LEVEL 8
LEVEL 9
LEVEL 10+
BUILD
9h 10m
10h 41m
12h 13m
13h 45m
15h 16m
16h 48m
18h 20m
19h 51m
21h 23m
22h 55m
REPAIR
27m 0s
32m 06s
36m 40s
41m 15s
45m 50s
50m 26s
55m 01s
59m 36s
1h 04m
1h 08m
Level 10 War Factory Repair Costs Per Scorpion Level
METAL
500
1,300
2,200
3,000
3,900
4,800
5,500
6,400
7,200
8,000
OIL
500
1,300
2,200
3,000
3,900
4,800
5,500
6,400
7,200
8,000
Info shown is for a Level 10+ War Factory  

•

  Lower Levels may be calculated by adding 5% for each level below Level 10.
Effective Scorpion Levels vs Turret
The Scorpion does not out range any level of any type of Turret.
Schematic Summery
SCORPION SCHEMATIC SUMMARY   ( T )
Medium Armor
Chemical Nozzle
Scorpion Frame
Scorpion Wheels  
Press Down Arrow Button to View the Components of each Slot. /  Hover over individual Components to view each.
Related Special Ops
RELATED SPECIAL OPs
NAME
ICON
CLASS
LEVEL
DESCRIPTION
BENEFIT
LENGTH
EXTEND
COST
Scorpion King
Offensive
Rare
6 Scorpions join your attack after you deploy ground units.
1h
500,000
Serious Tail
Defensive
Rare
6 max level Scorpions deploy when your Base is under attack.
12h
50,000
More Information and a the Full List of Ops available here: Special Ops
History of Availability
  Scorpion Gear Store History  
GEAR STORE STATUS
MEDAL COST
GAME UPDATE

ADDED

to Gear Store
 28,000
December 23, 2014

REMOVED

from Gear Store
Unavailable
February 04, 2015

ADDED

to Event Shop
 24,000
September 22, 2015

REMOVED

from Gear Store
Unavailable
October 06, 2015
Offered in Gear Store Continuously
Update History
Listed in Reverse Chronological Order -- Click [ Expand ] to View Earliest Updates
Additional Facts
Trivia
Quotes
Click Expand to View Additional Quotes
"

The Scorpion contains volatile Corrosive fluid that sprays while moving, and erupts in a deadly explosion upon the vehicle's destruction.

"



 

— Event Shop Description 
"

The Scorpion rushes into battle, covering its enemies with Corrosion. When it dies, it creates a glorious corrosive explosion!.

"



 

— In-Game Description 
Related Pages
External Links
Gallery - Animated
Gallery
Images may have been resized to fit in the page. Click on an image to view actual size.
Video
Community content is available under
CC-BY-SA
unless otherwise noted.