T • C
   ATTENTION : ADDITIONAL WORK REQUIRED !   

This Article may not meet the War Commander Wiki's Standards and may contain Incomplete or Missing Information.
You can help by Expanding this Article.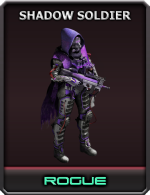 Unit Scouting Report
Scouts have observed the Shadow Soldier and have gathered the following information (

) :
Update History
Listed in Reverse Chronological Order -- Click [ Expand ] to View Earliest Updates
Additional Facts
Trivia
Firsts & Records
Quotes
"

Reports have surfaced of a new threat on the battlefield: the Shadow Soldier. Besides their powerful rifles, this unit is equipped with Smoke grenades that can be thrown at their enemies. While not threatening in their own right, these Smoke grenades cause enemies caught in their blast to have reduced attack range and receive more damage

"



 
— Enemy Unit Spotlight [src]
Related Pages
External Links
Gallery - Animated
Gallery
Images may have been resized to fit in the page. Click on an image to view actual size.
Community content is available under
CC-BY-SA
unless otherwise noted.