T • C
   ATTENTION : ADDITIONAL WORK REQUIRED !   

This Article may not meet the War Commander Wiki's Standards and may contain Incomplete or Missing Information.
You can help by Expanding this Article.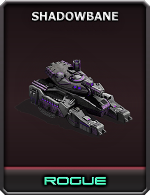 Unit Scouting Report
Scouts have observed the Shadowbane and have gathered the following information (

) :
Update History
Listed in Reverse Chronological Order -- Click [ Expand ] to View Earliest Updates
Additional Facts
Trivia
Firsts & Records
Quotes
"

The Shadowbane is the Shadow Alliance's high-tech tank. While having a low top speed and being slow to turn, the Shadowbane makes up for this with a high speed Plasma projectile that packs a major punch. Once combined with either the Shadow Soldier's or Darkshroud's Smoke coverage, the Shadowbane is lethal to most ground targets.

"

 
— Enemy Unit Spotlight [src]
Related Pages
External Links
Gallery - Animated
Gallery
Images may have been resized to fit in the page. Click on an image to view actual size.
Community content is available under
CC-BY-SA
unless otherwise noted.