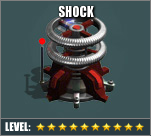 SPLASH DAMAGE
INFANTRY
VEHICLE
AIR
NO
POOR
BEST
CAN'T HIT
( T ) • ( C )
  STATUS EFFECT WEAPON : SHOCK  
Renders All Affected Units Unable to Move or Fire Weapons
Upgrade Progression
LEVEL
UPGRADE COST
UPGRADE
TIME
DEFENSE
LAB
EQUIPPING COST
SETTING
TIME
ROF
RANGE
DAMAGE
( DPS )
POWER
USED
Metal
Oil
Thorium
Metal
Oil
Thorium
1
N / A
N / A
N / A
N / A
8
250
250
0
5s
8
350
16
1,100
2
20,000,000
20,000,000
0
10m
9
5,000
5,000
0
5s
8
375
18
1,200
3
20,000,000
20,000,000
0
1h
9
58,600
51,400
0
5s
8
400
21
1,300
4
25,000,000
20,000,000
0
4h
10
366,200
347,550
0
5s
8
425
21
1,400
5
40,000,000
40,000,000
0
10h
10
2,288,800
2,349,300
0
5s
8
450
24
1,500
6
40,000,000
40,000,000
1,500,000
5s
10
3,375,000
3,375,000
120,000
5s
8
450
324
1,600
7
40,000,000
40,000,000
2,000,000
5s
10
3,656,250
3,656,250
150,000
5s
8
450
357
1,700
8
80,000,000
80,000,000
4,000,000
5s
10
7,312,500
7,312,500
300,000
5s
8
510
389
1,800
9
90,000,000
90,000,000
0
4d
10,968,750
10,968,750
450,000
5s
8
550
428
1,900
10
90,000,000
90,000,000
0
5d
14,625,000
14,625,000
600,000
5s
8
600
467
2,000
TOTAL
445,000,000
440,000,000
7,500,000
9d 15h 10m
Appearance Progression
APPEARANCE PROGRESSION
LEVEL 1
LEVEL 2
LEVEL 3
LEVEL 4
LEVEL 5
LEVEL 6
LEVEL 7
LEVEL 8
LEVEL 9
LEVEL 10
History of Availability
   Shock Turret Event Shop History   
EVENT SHOP STATUS
eXP COST
SPECIAL EVENT
DATE

INTRODUCTION

3,000 xp
Operation: Shockwave
Dec 6, 2012

Prize Hold

Unavailable
Operation: Hellstorm
Jan 24, 2013

ADDED

30,000 xp
Operation: Red Swarm
Feb 22, 2013

REMOVED

10,000 xp
Operation: Hellstorm 2
Feb 20, 2014

ADDED

400,000 xp
Operation: Sins of Our Fathers
Apr 19, 2018

REMOVED

400,000 xp
Operation: Deus Ex Machina
Jun 14, 2018
Offered in Event Shop Continuously Except Where Otherwise Stated  

•

  eXP = Event Experience Points
Update History
Listed in Reverse Chronological Order -- Click [ Expand ] to View Earliest Updates
Additional Facts
Produced the Status Effect : Shock ().
The Shock Turret is Immune to all weapons that produce the Status Effect : Shock ().
The Shock Turret produces a audible sound when charging giving the attacking player a chance to retreat prior to it Firing.
 The Shock Turret is useful to use in combination with towers that have a low Rate-of-Fire, like the Plasma or Laser Turret.
The Shock Tank / Shock Trooper uses blue to charge and fires blue charges, but the Shock Turret uses purple to charge and fires a blue charge.
The Shock Turret has the ability to apply the Status Effect : Shock () to multiple targets in a single shot.
Trivia
Quotes
"

The Shock Turret charges up and unleashes lethal lightning. All enemy vehicles caught in the blast temporarily suffer a total systems shut down.

"

 

— In-Game Description 
"

The Shock Turret will put a stop to invading vehicles!

"

 

— Unlock Facebook Message 
"

FULLY CHARGED - I can feel the ozone in the air, or is that just the remains of our enemies sizzling?

"

 
— Level 5 Message [src]
Related Pages
Gallery - Animated
Gallery
Images may have been resized to fit in the page. Click on an image to view actual size.
Video
Community content is available under
CC-BY-SA
unless otherwise noted.