---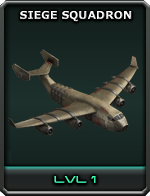 DAMAGE TYPE
RELOAD
CLIP
DAM / SHOT
FIRE RATE
TARGETS
SPLASH
UNKNOWN
N/A ( 0 sec )
N/A
N/A
N/A ( 0 )
NO
UNLOCK REQUIREMENTS
SIZE
UNLOCK RESTRICTIONS
8 Siege Squadron Scrap Parts
750
Maximum Unlocks : 1
( T ) • ( C )
    UNIQUE UNIT    
A powerful unit with a Production Limit of 1  

•

  For more information see Unique Unit
Stat Progression
Build Times & Repair Information
Level 10 Airfield Build & Repair Times For Siege Squadron  ( T )
LEVEL
BUILD TIME
REPAIR TIME
1 - 1
5d 23h 59m
14h 58m 00s
Repair times may be calculated by adding 5% for each level of Airfield below Level 10.
Effective Unit Levels vs Turrets
The Siege Squadron does NOT out-range any existing Turrets.
Schematic Summary
SIEGE SQUADRON SCHEMATIC SUMMARY   ( T )
-
Pods 
Pilot 
Cabin 
Press Down Arrow Button to View the Components of each Slot.  

•

  Hover over individual Components to view each.
History of Availability
  Siege Squadron Shadow Ops History  
AVAILABILITY STATUS
CAMPAIGN
CAMPAIGN DATES

INTRODUCTION

Campaign # 14 : Fallen Angels
Nov 03, 2017 Thru Jan 24, 2018
Only Offered As Shadow Ops Prize For Dates Listed
Update History
Listed in Reverse Chronological Order -- Click [ Expand ] to View Earliest Updates
Additional Facts
The Siege Squadron has a Range of

800

.

This is the distance from the enemy Command Center at which the Ravagers begin dropping.
This is also the distance Ravagers will continue to drop past the enemy Command center.

The Siege Squadron, capacity permitting, may be placed in any of the 4 available Aircraft Platoon.
The Siege Squadron may

NOT

be placed into the Drone Silo.
Trivia
The Siege Squadron at

Level 1

requires

1 minute

of Repairs for approximately every

83,519 Damage

it sustains. ().
The Siege Squadron is the 2nd unit to be fully controlled by R.U.B.I. once deployed.
The Siege Squadron is the 6th Aircraft to be released as a Shadow Ops Campaign Prize.
The Siege Squadron is the 14th Unit overall to be released as a Shadow Ops Campaign Prize.
Pixel Sheet Code : 311
Firsts & Records
Quotes
"

Designed to pack in as many infantry into hold as possible, the Siege Squadron swarms its targets by dropping off a seemingly unlimited amount of Ravagers on the battlefield.

"

 
— In-Game Description [src]
"

The Siege Squadron passes over the battlefield like the Kondor, dropping Ravagers to the battlefield below. Ravagers pack a powerful punch and can strike both Air and Ground targets.

The Siege Squadron has only 3 levels, but the Ravagers have 40 like other Uniques. Upgrading the Siege Squadron greatly increases the number that fly in formation and dropped Ravagers. Upgrading the Ravagers gives them better stats and supporting powers.

"

 
— Shadow Ops Description [src]
"

.... Like the Kondor, The Siege Squadron will repeatedly strafe over your enemy's Command Center, wreaking havoc until it is destroyed or the battle is won! While in battle, the Siege Squadron will continually drop new units, the Ravagers, that are fully controllable and do not add to capacity! The longer your Siege Squadron spends flying above the battle, the more Ravagers join the fight.

"

 
— Operation: Fallen Angels Briefing [src]
Related Pages
External Links
Gallery
Images may have been resized to fit in the page. Click on an image to view actual size.
Video
For more videos on this topic see : Siege Squadron Additional Video
Community content is available under
CC-BY-SA
unless otherwise noted.