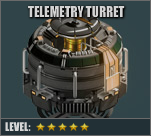 Upgrade Progression
LEVEL
UPGRADE COST
UPGRADE
TIME
DEFENSE
LAB
EQUIPPING COST
SETTING
TIME
POWER
USED
ADDITIONAL
RANGE
Metal
Oil
Metal / Oil
Thorium
1
50,000,000
50,000,000
1d
27
2,500,000
500,000
5s
2,500
+ 10
2
100,000,000
100,000,000
2d
27
5,000,000
625,000
5s
2,750
+ 20
3
150,000,000
150,000,000
3d
28
7,500,000
750,000
5s
3,000
+ 30
4
200,000,000
200,000,000
5d
28
10,000,000
875,000
5s
3,250
+ 40
5
250,000,000
250,000,000
7d
29
12,500,000
1,000,000
5s
3,500
+ 50
TOTAL
750,000,000
750,000,000
18d
Appearance Progression
APPEARANCE PROGRESSION
LEVEL 1
LEVEL 2
LEVEL 3
LEVEL 4
LEVEL 5
General Information
The Telemetry Turret adds Additional Range to the Turret to which it is linked.
The Telemetry Turret will only function when linked to a Defensive Platform with a Turret mounted on it.

It will

NOT

function if connected to the following :

Adds

1,500,000

to

2,500,000

additional Health depending on the level of the Telemetry Turret.
Setting the Telemetry Turret
The Telemetry Turret requires minimum Level 27 Defense Lab to unlock prior to setting.
The Telemetry Turret may be placed upon a any type of Standard Defense Platform.
The Telemetry Turret requires the Dozer to be place on a platform.
Update History
Listed in Reverse Chronological Order -- Click [ Expand ] to View Earliest Updates
Additional Info
The Telemetry Turret must be place directly next to the turret which it is to be linked to.

If the Telemetry Turret is placed directly next to more than one turret at a time it will

NOT

link to any of them.
Trivia
The Telemetry Turret ....
Pixel Sheet Code :

Tower 82
Firsts & Records
Quotes
"

Insert text here, without quotes.

"

 

— Attribution 
Related Pages
External Links
Kixeye Forum ( 03/15/19 ) - CC15 Briefing - ( Official ) - New Support Turrets
Gallery
Images may have been resized to fit in the page. Click on an image to view actual size.
Community content is available under
CC-BY-SA
unless otherwise noted.