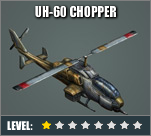 SPLASH DAMAGE
SPACE
INFANTRY
VEHICLE
AIR
BUILDING
MAP SPEED
?
?
?
?
?
?
N / A
UNLOCK REQUIREMENTS
UNKNOWN
( T ) • ( C )
    UNRELEASED ITEM    
This Item Was Designed By Kixeye But For Various Reasons Was Never Released Live Into War Commander
General Information
The UH-60 Chopper was a Prototyped Aircraft Unit that was

NEVER

Released Live into War Commander.
Trivia
Seven years later after its inception, an identical-looking unit, the Cricket, debuted in Operation: Red Exodus. This unit has the stats of a Faction-era unit, and was found in Red Lokust bases.
The UH-60 Chopper was scraped in favor of the Hellstorm.
The UH-60 Chopper appeared in several places outside the Live Game such as in

A Radio Tower Email notices of a Base Attack ( See Gallery Below )
Various game promotional images.

The UH-60 Chopper shares its name with the Real World Sikorsky UH-60 Black Hawk.

Although it differs in appearance.

Pixel Sheet Code : 25
Related Pages
Gallery - Animated
Gallery
Images may have been resized to fit in the page. Click on an image to view actual size.