Unreleased Buildings
We currently have 1 unreleased building right now. You can see it below.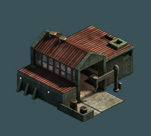 We have confirmed its name. Its the Repair Shop. It was planned to be released in the game with the tech/medic removal update, but it never made it to the game. Instead, the feature was added without the building.
Fun Facts
This building can be seen in the icon of high level Rogue Factions on the world map.